Metal Framing
Heller Lumber Co. carries a large selection of corrosion-resistant galvanized steel drywall studs and tracks for use in non-load bearing partition walls and ceilings. Knockouts (pre-punched holes) are conveniently placed in the studs to facilitate the installation of electrical wiring, plumbing, and bridging. The studs are connected to the floor and ceiling track (runner) with drywall screws. Wallboard or other sheathing is then attached in the same fashion.
The Drywall studs are available in 25, 22, and 20 gauge in 1-5/8″, 2-1/2″, 3-1/2″, 3-5/8″, 4″, 5-1/2″, and 6″ widths.
Our team of employees and suppliers are among the most educated in the industry when it comes to working with building materials. Visit Heller Lumber Co. or contact us and speak to a knowledgeable staff member who will be able to assist you with all of your building supply needs.
View Project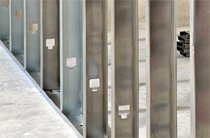 More like this...
Skylights

Velux Roof Windows and Skylights Velux has been the world leader in the roof window and skylight […]

Read More View Project

Siding

HardiePlank® siding is fiber cement board siding recognized for its durability and reputation. Produced by the James […]

Read More View Project

Plywood

We stock all the popular thicknesses in Plywood – from 1/4″ to 3/4″.  We have sheathing in […]

Read More View Project